Study the Classics Online!



Oxford Tutorials offers college preparation classes over the Internet in Classical Latin, Great Books, Shakespeare, C.S. Lewis, J.R.R. Tolkien, Logic, and Rhetoric.

• Follows a classical, Christian worldview and approach.
• Teaches history of ideas which shaped our culture.
• Weekly Tutorials with Norman J. Lund, Ph.D.




1. The Biblical Basis
for Human Government:

Why we should obey, and participate in,
our government.

1. God is the ultimate authority over all His creation.


"The Lord has established His throne in the heavens,
And His sovereignty rules over all." (Psalm 22:28)


2. God establishes governments.


"Every person is to be in subjection
to the governing authorities.
For there is no authority except from God,
and those which exist are established by God."
(Romans 13:1)


3. Human government is to punish evil and reward good.


"Submit yourselves for the Lord's sake
to every human institution,
whether to a king as the one in authority,
or to governors as sent by him for the punishment
of evildoers and the praise of those who do right."
(I Peter 2:13)


4. God can use even evil rulers to accomplish His purposes.


"The Most High is ruler over the realm of mankind,
And bestows it on whom He wishes
And sets over it the lowliest of men."
(Daniel 4:17)


5. God influences the thoughts of kings.


"The king's heart is like channels of water
in the hand of the Lord;
He turns it wherever He wishes."
(Proverbs 21:1)


6. God can remove and replace rulers at any time.


"He removes kings and establishes kings."
(Daniel 2:21)


7. The ideal government supports righteousness, justice, and peace.


"First of all, then, I urge that entreaties and prayers,
petitions and thanksgivings,
be made on behalf of all men,
for kings and all who are in authority,
so that we may lead a tranquil and quiet life
in all godliness and dignity.

"This is good and acceptable
in the sight of God our Savior,
who desires all men to be saved
and to come to the knowledge of the truth."
(I Timothy 2:1-4)



Our Duty To Obey


God's Word makes it clear that we are to obey our government's authorities.

• Pay taxes.
"Render to Caesar the things that are Caesar's;
and to God the things that are God's."
(see Matthew 22:17- 21)

• Obey the law.
"Submit yourselves for the Lord's sake
to every human institution,
whether to a king as the one in authority,
or to governors as sent by him
for the punishment of evildoers
and the praise of those who do right."
(I Peter 2:13-14)
(See also Romans 13:1-7 and Titus 3:1)

• Exception
When obeying the government would actually cause you to disobey God, chose to obey God instead.
"But Peter and the apostles answered,
'We must obey God rather than men.'
(Acts 5:29)


Our Duty To Vote


Voting is the process designed by our Constitution whereby our government is directed by us, "the people."

Ultimately, all parts of our government are affected by our voting – not just Presidential elections.

It is a privilege and a responsibility of every citizen to participate in our government on all levels and to take part in the direction our nation is going.

Yet a significant percent of Americans do not register or vote! This should not be true of Christians.

Christians can impact our society and nation if we all make a concerted effort to cast informed votes guided by biblical truths. We should also seek to influence others to do the same.





For Your Students:

• 3-10 workbooks in each series

• Start wherever appropriate

• Only one concept per page

• Understand new ideas

without being overwhelmed

• Simple vocab and reading level

For You:

• No lesson preparation or

duplication of problems.

• Answer books provide actual reproductions of each

workbook page and show every solution step-by-step.

Key to ...

•

Algebra

•

Decimals

•

Geometry

•

Measurement

•

Metric Measurement

•

Percents

•

Fractions

.

See Series

.

Birch Court Books

Free Media Mail Shipping with $20 Purchase

www.birchcourtbooks.com

Free catalog. 800-655-1811

N7137 County Hwy. C, Seymour WI 54165



2. Our National Heritage:

Understanding our privileges
and responsibilities.



Understanding our national heritage will help your family appreciate the privileges and responsibilities of citizens.


Our Heritage of Freedom


The freedom that we now enjoy has its roots in history.

• Ancient Civilizations
This includes the Jewish system of law and justice based on the Law of Moses given by God, the Greeks' ideas of order and justice, and the Romans' concepts of duty, authority, and rule by law.

• God's Word
The Bible is referred to by our founding fathers as "the great political textbook" giving us our ideas of morality, justice, spiritual liberty, and the sanctity of law.

See a chart of the influence of Biblical thought on America's legal system with Bible references.

• The Magna Carta
This agreement between King John of England and his subjects (1215) included three freedoms that are very similar to Amendments IV, V, and VI of our Constitution.

• The Reformation
Wycliffe's translation of the Bible into English, Martin Luther's 95 Theses, and Gutenberg's invention of the printing press enabled individuals to break the chains of illiteracy, spiritual ignorance, and civil tyranny.

• Religious Freedom
The Edict of Nantes granted the French Protestant Huguenots religious liberty in 1598. Although not fully enforced, it paved the way for our First Amendment.


Our Christian Heritage


Many Americans do not realize the extent of Christian influence on our nation's founding, especially since it has been "written out" of public education textbooks. Others either deny our Christian foundations or seek to remove their memory or our connection to them.

However, this nation has a rich Christian heritage, and Christian home-school families should be especially diligent to thoroughly acquaint their children with it. It is very advantageous to use Christian curriculum in this area.


Resources


• Christian Life and Character of the Civil Institutions of the United States is packed with page after page of original source material making the case that America was founded as a Christian nation.

• For You They Signed by Marilyn Boyer. Character Studies from the Lives of the Signers of the Declaration of Independence.

• WallBuilders. Online articles, such as "The Founding Fathers on Jesus, Christianity and the Bible."

• Read the Christian testimonies of Washington and Lincoln.

• Christian Heritage Week. Promoting our nation's Christian foundation with many links to other sites.

• A Nation Adrift DVD. From Christopher Columbus to the present, showing God's sovereign hand behind the history of our nation.





Great Science Adventures
Make Learning Relevant and Exciting




The Great Science Adventures
books contain activities and basic content appropriate for grades K-8 – perfect for multilevel teaching!
With excitement and creative illustrations, each book includes everything you need for 24 lessons.
Nine Books
are available: • Atoms, Molecules, and Matter • The Ocean • The Human Body • Earth's Landforms • Light and Sound • Plants • Tools and Technology • Space • Insects.
Learn More & Order
: View Table of Contents and FAQs.
Get Free Sample Lessons Here
.
Order online

at

www.CommonSensePress.com

.

Also available:

Learning Language Arts Through Literature

.



3. Our Family's Contribution:

The foundation of individual families
living Godly lives.



The family is recognized as the basic building block of our nation. As your family lives Godly lives, you will be making a strong and solid contribution to our country.

Your children's salvation is your first priority. Then follows spiritual growth through loving dedication and obedience to God, knowing and speaking to God in prayer, Christian fellowship, and ministry to others.

Teaching and training your children at home provides the optimum opportunity for your children's spiritual training and character development, as well as their social and academic welfare.


Saturate your family in God's Word.


Teach your children that God's Word is the final authority for our faith and practice, and teach them how to look up what God says about any given thing, using Bible study tools such as a concordance.

"And do not be conformed to this world,
but be transformed by the renewing of your mind,
so that you may prove what the will of God is,
that which is good and acceptable and perfect."
(Romans 12:2)





New from Doorposts: The "Put On" Chart!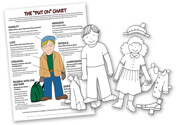 Does anyone in your household

ever have trouble being patient?

How about forgiving?

Or compassionate?

As much as we love the members of our own family, home is where our ability to truly love is put to the greatest test.

Our new "Put On" Chart, book, and paper dolls

will help your family "put on" the character qualities of God's children from Colossians 3:12-14 as you study what the Bible says about compassion, kindness, humility, meekness, patience, forbearance, forgiveness and love.

Visit

our website

to learn more and view

sample pages

. Save 10% on your entire order with coupon

TTHPUTON

.

Doorposts www.doorposts.com

(888) 433-4749

Bible-based, parent-designed, family-tested products.



4. The Preeminence of Prayer:

God's prescribed method of political action.



The primary method of effecting political change is through prayer.

"I exhort therefore, first of all, that supplications,
prayers, intercessions, thanksgivings,
be made for all men;
for kings and all that are in high places;
that we may lead a tranquil and quiet life
in all godliness and gravity.

"This is good and acceptable in the sight of God
our Savior;
who would have all men to be saved,
and come to the knowledge of the truth."
(1 Timothy 2:1-4)


It is ultimately God who can "remove kings and establish kings" (Daniel 2:21) and influence their actions:


"The king's heart is like channels of water
in the hand of the Lord;
He turns it wherever He wishes."
(Proverbs 21:1)

All of our political action is in vain if we do not recognize God's workings in the affairs of men and call upon Him to help us and our nation.


Pray for Our Leaders


• Pray for officials by name; for their salvation, wisdom, and integrity. Find your federal, state, and local elected officials online.


Pray for Revival Among Christians
"If My people, who are called by My name,
shall humble themselves, and pray,
and seek My face,
and turn from their wicked ways;
then will I hear from heaven, and will forgive their sin,
and will heal their land."
(2 Chronicles 7:14)

5. Spreading the Gospel:

The only real way to influence our nation
for time and eternity!



The main benefit of political action is not the comfort of our freedom to do as we choose during our brief life on earth, but the ability to spread the Gospel for the eternal salvation of others and "that we may lead a tranquil and quiet life in all godliness and gravity." (1 Timothy 2:2)

The proper perspective is that of eternity.

We are blessed with the freedom to worship God, to spread the Gospel, and to teach our children at home in godly ways.

True and lasting change will only be brought about when the people that make up the electorate, and those that govern, both love and obey the Lord God.