A Mighty Fortress
Is Our God

Words & Music
by Martin Luther, 1529


A mighty fortress is our God,
a bulwark never failing;

Our helper He, amid the flood
of mortal ills prevailing:
For still our ancient foe
doth seek to work us woe;
His craft and power are great,
and, armed with cruel hate,
On earth is not his equal!`
And though this world,
with devils filled,
should threaten to undo us,
We will not fear,
for God hath willed
His truth to triumph
through us:
The Prince of Darkness grim,
we tremble not for him;
His rage we can endure,
for lo, his doom is sure,
One little word shall fell him!
• Listen to this hymn, see words, download sheet music, read devotional and hymn story at songsandhymns.org.
• Hear Mahalia Jackson singing this hymn.
What To Do
About Halloween
What To Do About Halloween
Each year as stores and homes begin to decorate for Halloween, we can either ignore the holiday or respond to it in a way that will edify our families and others while honoring the Lord.
Halloween is an opportunity to teach the history of this holiday and what God says about the unseen, but real, spiritual world around us of Satan's evil and God's good.
Historically, Halloween was a pagan, occultic worship day. Even today we see that the primary focus of Halloween is the occult, the devil, evil, death, fear, and horror.
• See online booklet "The Tricks and Treats of Halloween" by John Muncy.
By not celebrating this holiday as the unbelieving world does, we are acknowledging that as Christians we are different from the world and are obeying God's Word:
"Have nothing to do
with the evil deeds
of darkness,
but rather expose them."
(Ephesians 5:11)
As citizens of Heaven who have been given the mission of being ambassadors for Christ, learn how your family can practice evangelism with Halloween tracts.
These will be invaluable life lessons for your family and an occasion to fulfill your family's goal of influencing our society for the Lord!
1. Teach Truth
The first truth to teach is the pagan, occult, and satanic origin and present practices of Halloween.
• See Annie's Halloween Page: A Christian Perspective on the Holiday and Annie's Halloween History Page, as well as the article on the occult at the right.
Use a few of your family's daily devotional times to do a Bible study. Look up and discuss all the Scriptures you can find related to the occult. Use a Bible dictionary, your Bible's chain reference, and/or a topical Bible.
Be sure to balance your study of Satan and evil with the glorious attributes of God, His power, and Christ's victory over Satan by His death and resurrection.
A word of warning: when we expose Satan and his works and reveal God's Words to our family, the enemy of our souls will target us for attack. We must put on "the whole armor of God," for this spiritual battle is real.
Passages to Study
These are a few topics and passages to get you started.
• Light and Darkness: Eph. 5:1-17
• Witchcraft: Deut. 18:9-14; Lev. 20:27; I Sam. 28:3-25
• Satan: John 8:44; I John 5:19; Luke 22:31; I Pet. 5:8
• Fear: Matt. 10:28; Ps. 118:6; 27
• Hell: Luke 16:19-31; Rev. 19:20; 21:8.
• God's Love: John 3:16; I John 3:1; Rom. 8:31-39
• God's Power: Rom. 16:20; I Cor. 15:51-58; Luke 8:26-39
• God's Protection: Ps. 23; John 10:27-30; Ps. 91
• God's Presence: Ps. 145:18; Matt. 28:20; James 4:7-8
• Spiritual Warfare: Eph. 6:10-18; II Cor. 10:3-5
You may want to select some verses that promise God's love and protection to memorize and be used to comfort and reassure your children when they are afraid.
2. Evangelize –
Spread the Good News
Many families use Halloween for an outreach ministry of tract evangelism.
• You can turn your light on and welcome trick-or-treaters with candy and a gospel tract.
• One family goes out on the sidewalks and offers candy and tracts to those who pass by.
• Or you could wrap up plates of home-made cookies with tracts enclosed and take them around to your neighbors.
To prepare for your ministry
• Select appropriate tracts from your local Christian bookstore or make your own (see below).
• Teach your children the courtesies of distributing tracts and the importance of being a good testimony while doing so.
• Pray for the fruitfulness of the seed, God's Word, you will be sowing in the lives of people receiving the tracts.
Print or Make Your Own Halloween Tracts
1. Life Saver Tract
Hand out this tract with the 5-flavor roll of Life Saver candy. Free to download and print. Also in Spanish. Directions for folding (1 tract on 8.5" x 11" sheet) or for printing two sides (2 tracts on 8.5" x 11" sheet).
2. Your Own Tract
Write and print your own tract. Read "How To Write a Tract" and give out with a treat similar to this online tract.
Alternatives
Many families respond to the evils of Halloween with alternatives such as a harvest festival at their church.
For another view, read "A Biblical View of Halloween," including "Are Harvest Parties for Christians?"
Some families celebrate Reformation Day on Oct. 31. An excellent resource for that celebration is "A Night of Reformation" by Doorposts. This 170-page notebook contains a short play about Martin Luther plus instructions and illustrations for games, carnival booths, crafts, food, music, costumes, decorations, and art and writing projects.
Anticipate questions that your children may be asked about Halloween and help them prepare an answer that would honor our Lord.
The Lord can help your family to turn Halloween into an opportunity to teach your children Biblical truth, disciple them in evangelism, and experience a fruitful time of ministry together.
Reformation Day:
October 31st
Unit Study on the Reformation
Newsletter #53 contains a unit study on the Reformation that can lead up to Reformation Day and/or follow it. This unit study includes:
• Teaching Our Children the Whole Truth
• Bible study
• Internet links
• A timeline
• Suggestions for studies in writing, reading, history, geography, art, vocabulary, speech, music, science, and more.
Also Read "The Faithful Few," tracing those who have remained faithful to God and His Word from Adam to today.
HSLDA offers homeschooling families a low-cost method of obtaining quality legal defense that gives them the freedom to homeschool without having to face legal threats alone.
(Use discount group number 299142 for $20 off your membership fee.)
We trust that you find this newsletter informative and encouraging.
• See our archives of more than 200 newsletters online.
• To change your e-mail address, follow the "Update Profile / E-mail Address" link at the end of this e-mail.
• Add our e-mail address publisher@teachinghome.com to your address book, contact list, or safe list.
• If this issue has been forwarded to you, sign up to receive your own free subscription.
Your e-mail address will never be sold or given to anyone, ever!
The Teaching Home
Back Issues

Always-Relevant
Teaching Home Back Issues
Fifty-one back issues are offered online or by mail order.
The information, inspiration, and encouragement packed into each back issue never goes out of date. They are always relevant, applicable to your needs today.
Order securely online.
Outdated Geography
Our daughter, Autumn, listened intently to a family reading session that dealt briefly with the end times. Afterwards I attempted to answer some of her questions.
When I mentioned that there would be a new heaven and a new earth, she became concerned.
"You mean," she asked, "I'm going to have to learn world geography all over again?"
Submitted by Sara B., Virginia.
Send your humorous anecdote to publisher@teachinghome.com.
Immerse your family in God's truth through systematic reading and study of God's Word.
See The Teaching Home's Bible reading schedule online at TeachingHome.com.
Christian Music Online 24/7!
Listen to beautiful traditional, sacred, and inspirational conservative Christian music (commercial free!) when you tune in to Abiding Radio at www.AbidingRadio.com.
Also: Old Christian Radio.
Because we have been separated from God by sin, Jesus Christ died in our place, then rose to life again. If we trust Him as our Savior and Lord, He will forgive our sin and give us eternal life.
"For God so loved the world, that He gave His only begotten Son, that whoever believes in Him shall not perish, but have eternal life." (John 3:16)
We need your help!
Please help us make this newsletter better by letting us know what we are doing correctly, where we need to improve, and topics you would like addressed.
We encourage you to share our e-mail newsletters in the following ways:
1. Newsletter. Forward the entire newsletter to your friends and support group.
2. Articles. Reprint articles in an e-mail or print publication.
3. The Internet. Articles may be posted on the Internet by observing the copyright policies below and including an active link to our website: www.TeachingHome.com.
Please observe the following copyright policies when you reprint our material:
• Editing. Reprint articles unedited and in their entirety.
• Byline. Include "by Cindy Short and Sue Welch," unless another author is listed.
• Copyright Notice and Link. Add: "Copyright 2009 (or year published) by www.TeachingHome.com. Reprinted by permission."
Send Your Newsletter
by Constant Contact!
We use, and recommend, E-mail Marketing by Constant Contact to send you this newsletter.
For information about how you can use this service to send out your newsletter and to receive a free 60-day trial, please use our affiliate link to go to www.constantcontact.com.
To advertise in this newsletter,
request information
.
Copyright 2009 The Teaching Home

•
Invite a Friend!
Encourage your friends and support group to
sign up
to receive this free newsletter.
• Use the Content of This Newsletter. See "Free Reprint" information below.
• See something underlined in blue type? Click it to find more information and/or free resources.
In This IssueThe Occult & HalloweenThe Occult1.
Warning
2.
What Is the Occult?
3.
What Does God Say?
4.
Does It Affect My Family?
5.
How To Protect Your Family
6.
Helpful Resources
7.
Conclusion
SidebarWhat To Do About Halloween
Reformation Day: October 31st
Link to Unit Study on the Reformation
Recommended Resources
•
Christian Liberty Academy School System
•
Steward Ship
: Unit Study on Pilgrims
•
Doorposts
: Character Training Books and Charts
•
Jackson Hole Bible CollegeGreetings,
As our culture is bombarded with the celebration of Halloween, we have an appropriate and compelling opportunity to teach our children what God says about the occult and its dangers.
The following thoughts are intended to raise your consciousness about the occult in our society and to suggest appropriate responses for Christian families.
May the Lord bless you and your family for His glory.
Cordially,
The Pat Welch Family, Publishers
Pat, Sue, Heather, Holly, and Brian
The Teaching Home
is a home-school, family-run business operated in our home since 1980.
---
Since 1967, CLASS has provided families with a flexible, affordable program – offering Godly education and academic excellence for K-12.
Our
CLASS Plan
includes: • Books • Teacher manuals • Tests and answer keys • Grading services and report cards • Diploma and transcript.
See our CLASS and Family Plan
Comparison Chart
. Both plans provide curriculum best fitted for your child based on achievement test scores and other academic information, as well as a
math email helpline
, and an
algebra tutorial
, at no extra cost.
1. The Occult: A Warning
The study of the occult can become oppressive and should not be taken lightly. Any contact with the occult, even studying it, can progressively draw a person into a fascination with the occult and place him in a vulnerable position.
God warns us of Satan's overt and covert attacks:
"Satan disguises himself as an angel of light."
(2 Corinthians 11:14)
"Be of sober spirit, be on the alert.
Your adversary, the devil,
prowls around like a roaring lion,
seeking someone to devour."
(1 Peter 5:8)
Because of this very real danger, we need to teach our children to keep their distance from anything remotely connected with Satan and his power. Instead we are told:
"Resist the devil and he will flee from you.
Draw near to God and He will draw near to you."
(James 4:7, 8)
2. What Is the Occult?
The occult is real, not imagined or made up. We are in a spiritual battle:
"against the rulers, against the powers,
against the world forces of this darkness,
against the spiritual forces of wickedness
in the heavenly places."
(Ephesians 6:12)
The occult refers to secret knowledge and practices involving the supernatural. Occultism has been rapidly growing in its influence and acceptability. Read many informative articles on the Christian Answers and Spotlight Ministries websites.
Wicca (another word for Witchcraft) and Paganism are now recognized "religions" listed and described in manuals for chaplains in the U.S. military and correctional services.
The list of 77 occultic practices on Christian Answers' website will open your eyes to the many forms of the occult. Some examples are astrology, magic, spells, enchantments, charms, sorcery, wizardry, witchcraft, divination, fortune-telling, mediums, spiritism, necromancy, familiar spirits, wizardry, seances, channeling, clairvoyance, and spirit-guides.
The occult is also a part of yoga and transcendental meditation (a form of yoga). Dave Hunt, author of Yoga and the Body of Christ, says, "The greatest yoga teachers all declare that the repetition of a mantra is a call to that god (i.e., the demon it represents) to come and possess the meditator." Read online article, Is Yoga Demonic?
Any time a person gives up control of himself, except for a deliberate yielding to the Lord, he opens himself to be controlled by Satan. This can include some martial arts, some so-called "Christian" (non-biblical) forms of meditation, hypnotism, and Theosophy.
Man seeks and hungers for a power higher than himself. When he refuses to accept the true God, he is open to the alternative power of Satan.
All real super-human power is either from God or Satan. There is no neutral power, nor is there any good power that comes from Satan (e.g., there are no good witches or "white witchcraft"). This should be remembered when encountering attempts to call good "evil" and evil "good," to blur the lines between good and evil, or to condone choosing a "lesser" evil as a way of avoiding something "worse."
Our Pilgrims Package includes 8 resources:
1. Study of...Pilgrims
(teachers guide)
2. Stories of the
Pilgrims (read aloud)
3. History Pockets
4. Daily Life in the
Pilgrim Colony
(nonfiction; hardback)
5. If You Sailed on the
Mayflower (nonfiction)
6. The Story of the Pilgrims (colorbook)
7. Pilgrims Flapbook packet (art/activities)
8. First Thanksgiving (sticker picture book)

Week 1 - Pilgrims in England
Week 2 - Pilgrims in Holland
Week 3 - Pilgrims on Mayflower
Week 4 - Pilgrims in New World

3. What Does God Say?
God has zero tolerance for the occult and treats it very seriously.
"There shall not be found among you anyone who . . .
practices witchcraft, or one who interprets omens,
or a sorcerer, or one who casts a spell, or a medium,
or a spiritist, or one who calls up the dead.
For whoever does these things is detestable
to the Lord."
(Deuteronomy 18: 10-12)
"You shall not . . . practice divination or soothsaying.
Do not turn to mediums or spiritists."
(Leviticus 19:26, 31)
4. Does It Affect My Family?
Both children and adults are being constantly exposed to the pervading presence of the occult in our culture through books, movies, TV, music, and games.Even the seemingly supernatural power in some religious experiences needs to be identified with biblical discernment.
"But the Spirit explicitly says
that in later times some will fall away from the faith,
paying attention to deceitful spirits
and doctrines of demons."
(1 Timothy 4:1)
"Beloved, do not believe every spirit,
but test the spirits to see whether they are from God,
because many false prophets have gone out
into the world."
(1 John 4:1)
When studying pagan cultures, be aware that many ethnic objects and practices are actually satanic.We must take the occult's presence in our homes and children's lives seriously. It is not just innocent fun. We never know where a very little influence or involvement can lead.

Make God's Word THE Word in Your Home!


Use Doorposts' award-winning books and charts to: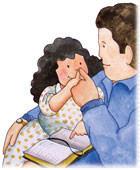 • Encourage godly behavior
• Set Biblical standards
• Be more consistent
• Be more united as husband
and wife
• Point your children to God's
Word, which "will not return
void"
For details and sample pages:
For Instruction in Righteousness
: The parent's topical Bible
Set of Four Charts
: For consistent, Biblical discipline
Character Training Package
: Our best discount
Enter coupon
TH03
and save an extra 10% on your order!
Doorposts
www.doorposts.com
(888) 433-4749
Bible-based, parent-designed, family-tested products.
5. How To Protect Your Family1. Teach Your Children
What God Says about the Occult
Do a Bible study, reading and discussing the Scripture passages in this newsletter and others that are chain-linked in your Bible (or use a concordance).
2. Identify the Occult in Your Home
As an exercise, identify and list any occultic influences in your home. They may come mainly through books, gaming, movies, and music.
• Fantasy in Books and Movies. Writers such as C.S. Lewis and J.R.R. Tolkien, while accepted by many Christians, can provide an initiation into the genre of fantasy (read online article). As the line between acceptable and unacceptable fantasy keeps being pushed further and further, this can lead to many works of dubious value and potential danger, still being rationalized by "good conquering evil."
On their website, Spotlight Ministries points out "A big area where the occult realm is making headway these days is the whole realm of fiction and fantasy. Young people, especially, are being drawn to witchcraft and other areas of the occult initially by becoming interested in fictional aspects of it. From this, the jump into the real world of the occult is an easy, more familiar one to make."
• Gaming. Many video games, including Internet games, involve the occult, even though the "good" occult is fighting to conquer the "bad." A good rule for games is that a child should not pretend to do something that would be wrong to do in real life.
3. Guide and Supervise
You may determine that some things are not really occultic, but need to be explained and controlled.
• Fairy Tales. Provide parental guidance to your children when they encounter impossible or supernatural things in fairy tales.
• "Magic." Explain the difference between "magic" tricks (illusions) and the supernatural power of either God or Satan.
• Limit Involvement. It is important to limit the amount of time that a child is immersed in such questionable reading, watching, or playing.
He should not read only fantasy or spend hours each day playing a fantasy game.
4. Remove Objectionable Material
and Activities
You may need to do a purge of over-the-line or too-close-to-the line items from your home.
• Discuss. Talk about these items with your children, explain why you believe it would be better for them and please the Lord if they were removed from your home.
• Pray. Pray together to ask for the Lord's wisdom and power to do His will. If your children are unwilling to give up a questionable activity, that might be a sign that it needs more attention.
• Completely Remove. The world derides "book burning," but the Lord records in His Word, for our edification, that after an evil spirit was sent out of a man in Ephesus:
"Fear fell upon them all
and the name of the Lord Jesus was being
magnified.
Many also of those who had believed kept coming,
confessing and disclosing their practices.
And many of those who practiced magic brought
their books together and began burning them
in the sight of everyone;
and they counted up the price of them
and found it fifty thousand pieces of silver.
So the word of the Lord was growing mightily
and prevailing."
(Acts 19:17-20)
• Overtly Satanic Items. Of course, overtly satanic games such as the ouija board and tarot cards should be strictly forbidden.
5. Fill Your Home with Godly Influences
When we remove undesirable activities from our family's lives, we must fill the vacuum with Godly influences (see Christ's parable of the unclean spirit who was banished, then replaced with seven more wicked spirits in Matthew 12:43-45). Fill your home and children's lives with:
• God's Word – reading, discussing, studying, memorizing.
• Good Christian music, such as the old hymns of the faith. Check out music sold by Sound Forth or listen to Christian music online at Abiding Radio or Old Christian Music Radio where you can also buy the music you hear.
• Wholesome reading materials and images. Everything in our lives should meet God's standards:
"Whatever is true, whatever is honorable,
whatever is right, whatever is pure,
whatever is lovely, whatever is of good repute,
if there is any excellence
and if anything worthy of praise,
dwell on these things."
(Philippians 4:8)
6. Arm Your Children with God's Word
Teach your children to resist Satan, his temptations, and his power as Christ did with Scriptures that they have memorized.
"Be strong in the Lord and in the strength of His might.
"Put on the full armor of God, so that you will be able
to stand firm against the schemes of the devil . . .
having girded your loins with truth,
and having put on the breastplate of righteousness,
and having shod your feet with the preparation
of the Gospel of peace;
in addition to all, taking up the shield of faith
with which you will be able to extinguish
all the flaming arrows of the evil one.
"And take the helmet of Salvation,
and the sword of the Spirit,
which is the word of God with all prayer
and . . . be on the alert with all perseverance."
(Ephesians 6:10-18)
• Balanced Curriculum of
Theology, Bible Survey, and
Christian Growth Courses

Courses are taught in a modular, "single-subject-in- sequence" format which enables Bible scholars from around the nation to participate in bringing the highest quality education to our students.

• Outdoor Recreational Activities; Backpacking in the
Windriver Mts.; Field Excursions to Yellowstone, Mt. St.
Helens, Grand Canyon, and other sites

6. Helpful Resources
• Online Information. Read many articles about the occult at Christian Answers and Spotlight Ministries.
• Halloween - Trick or Treat? DVD
Informative DVD traces the pagan origins, history and rituals of Halloween, one of the highest holy days of the Pagan/Occult calendar of Druids, Witches, and Satanists. The rituals seen in this documentary are real (too graphic for young children). Order online.
Good Book Alternatives
Order good character-building books for your family to read alone or aloud together from the following publishers:
Historical fiction, adventure, and character building stories:
• Vision Forum. Books by G.A. Henty and R.M. Ballantyne.
• Jim Hodges Audio Books. Unabridged recordings of the G.A. Henty historical novels.
• Beautiful Feet. Landmark series and similar books.
Reviews from a Christian Worldview
You might not agree 100% with these reviews, but they are a place to start and to alert you to undesirable elements.
• Plugged-in Online. Reviews of movies, video/DVD, music, and television.
• Christian Spotlight on Entertainment. Reviews of movies, Christian films, television, and games.
7. Conclusion
We need to recognize, but not fear, the power of Satan and his demons, which is nothing compared to God's power.
"For I am convinced
that neither death, nor life,
nor angels, nor principalities,
nor things present, nor things to come,
nor powers, nor height, nor depth,
nor any other created thing,
will be able to separate us
from the love of God,
which is in Christ Jesus our Lord"
(Romans 8:38-39)

"At the name of Jesus every knee will bow,
of those who are in heaven
and on earth and under the earth."
(Philippians 2:10)
"And the great dragon was thrown down,
the serpent of old who is called the devil and Satan,
who deceives the whole world . . .
"Then I heard a loud voice in heaven, saying,
'Now the salvation, and the power,
and the kingdom of our God
and the authority of His Christ have come . . .
And they overcame him
because of the blood of the Lamb
and because of the word of their testimony.'"
(Revelation 12:9-11)
---
---