"Christmas Books, Videos, Christian Fiction, Devotionals, and More"
is the subject line of the e-mail accompanying and sponsoring this newsletter.

For Your At-Home Shopping Convenience
During the next week, you will receive separate e-mails offering an
alternative to shopping in a crowded mall -- with the added benefit of
giving you great products with educational and/or spiritual value!
Look for "The Teaching Home" in the sender's column of your in-box
for these special e-mails
Also check out the gift ideas in the accompanying e-mail and in this
newsletter!

Subscribe at http://www.TeachingHome.com/SignUp.

Table of Contents
Our Readers Write
Balance Found by Daily Turning to God
Australian Family of 13 Relies on the Lord
My Special Home-School Friend
Laying Down Life To Be in Center of God's Will
Second Try Brings Success
By God's Grace
Recommended Resources
Timberdoodle: Knex Construction Sets
AVKO Dyslexia (& Spelling) Research Foundation
Measure Match: Memory Game
The Teaching Home Back Issues
God's World News Weekly Current Events
Family Time Edited Movies
Replica Victorian Punched Paper Embroidery Samplers
Henty Historical Novels: Unabridged Recordings
Sunnyside Up: Humorous Anecdote

Greetings,

In this issue we bring you six letters from the Feb./March
1990 issue of The Teaching Home magazine (now out-of-print).
Your fellow home schoolers shared their ups and downs as
they offered encouragement and practical suggestions to others.
This kind of heartfelt sharing is never out of date, even though
it was written almost 15 years ago!
We would love to hear from you too! Send your letter to us
at Publisher@TeachingHome.com.

"Therefore encourage one another
and build up one another,
just as you also are doing."
1 Thessalonians 5:11

Cordially,
Cindy Short and Sue Welch, Sisters and Co-Editors
The Pat Welch Family, Publishers
Pat, Sue, Heather, Holly, and Brian

Continue Receiving This Free E-Mail Newsletter
If you use a spam filter, whitelist us by putting the following
into your e-mail program:
* "From" address: Publisher@TeachingHome.com.
* Sending IP address: 199.108.225.11.
* Domain name: teachinghome.com.
Knex Extravaganza
Gives You More Than
3,400 Pieces and
Three Construction Sets!
Teacher's guides and activity
cards are clear and thorough.
Your child can do these
educational activities all by himself,
developing problem-solving, fine motor, and spatial skills by
building and operating each model.
Several children can work independently of each other.
Simple Machines. 60 models including levers, pulleys,
wheels and axles.
Bridges. Design and build 30 models. Easy-to-assemble
pieces stay together.
Big Ball Factory. Build a 5-foot, science-fair quality
coaster showing levers, gears, and pulleys in action.
http://www.Timberdoodle.com
____________________________________________________
Balance Found by Daily Turning to God
I am writing about an article in the Aug./Sept. 1989 issue
written by Ruth Beechick called "Curriculum as Servant."
Articles like this point out to me our need as teachers for
discernment. The key is knowing when to follow carefully laid
out lesson plans and curriculum and when to loosen up a bit and
allow some creative, nonstructured learning to take place.
For me the answer lies in daily turning to God and
committing myself to Him. The foundation is my prayer life with
my Creator. When I do this regularly, I am opening the door for
the Lord Jesus and the Holy Spirit to enter into my life and
teach me along with my children.
Then curriculum truly is the servant, and through both
structured and unstructured moments of learning, God reveals His
will, His truth, and His freedom in our home school and in our
lives as Christians.
Carol W., Indiana
____________________________________________________
AVKO Dyslexia (& Spelling)
Research Foundation
AVKO Individualized Keyboarding
* Use the keyboarding program that teaches reading and
spelling skills as your child masters the computer keyboard.
* Visit the AVKO website for information on dyslexia, freebies,
and our catalog of spelling and reading materials.
http://www.avko.org
____________________________________________________
Australian Family of 13 Relies on the Lord
Greetings from Australia to our American home-school
brethren. Psalm 32:8, "I will instruct thee and teach thee."
We are in our twelfth year of home schooling, and thank the
Lord for the way He is raising up families everywhere, the world
over, who will obey Him and seek His ways in all their life
styles.
Our 11 children range in age from 3 months to 18 years. We
use a fairly structured approach and a combination of various
Christian curricula.
How do we cope in our large family with all the different
levels of studies, the age gaps, and the vast amount of
housework? We get our strength, help, wisdom, organization, and
patience from the Lord. He alone can prepare our "army" for each
day's tasks. What a blessing to be able to lean on the Lord
Jesus in prayer.
Sometimes it has been hard. During pregnancy sickness I've
had to lie down to teach. It sure makes one realize how much we
must let the Lord take over in our weakness.
Sometimes it is easy; our school seems to hum along like a
well-oiled engine, and the kids work well, Mum is well, and at
lunch and recess we get a lot of cleaning done.
The greatest asset in a large family is a doctrinal basis
for what we believe. This has been the year for learning all
about the sovereignty of God. The Lord put Mum in bed for two
weeks with Ross River fever, and we learnt so much about God's
plans for us through that. Our sense of humor helped a lot too!
We had "school at a distance." The children made excursions into
the sickroom and did their work one-by-one there. It was really
good fun, especially when Mum dozed through most of it!
Two things we've found to be good to do:
1. A Regular Home-School Newspaper.
We do three or four a year. Creative writing, art,
grammar, etc., are used. We generally omit lessons for a day to
work on it.
Our children write, rewrite, correct, type, and illustrate
anything that is news. Poems, jokes, and a devotional go into
it.
We practice layout and assembling together. Even the
"tinies" can give an oral report to be typed.
2. Daily Drills
Each day before lunch we have a 15-minute general knowledge
drill.
* Monday and Tuesday we have a three-level spelling bee.
* Wednesday we have a geography quiz.
* Thursday we practice mental arithmetic.
* Friday we have a quiz on our Scripture classes.
Points earned by the winners are accumulated until there are
sufficient to choose a prize from a tin of awards. The prizes
are used as gifts for others on Christmas and birthday.
We had to write our own Australian history in Christian
perspective. When we started 11 years ago, we believed Australia
had no Christian heritage. How wrong we were! And it has been
of the greatest encouragement to us to discover the earliest
Australians only home schooled.
For those who are discouraged by no support group (we have
no one at church or locally), ill health, or seemingly too much
to do, rest in the Lord; He will give you just enough strength
for each day.
Robin J., Australia
Measure Match: A New
Memory Game Teaches
Common Measurements
Simple and fun, this colorful card
deck contains 34 pairs of equivalent
time, length, weight, and volume
measurements. No reading required. Ages 4 and up.
Match cards using colors, shapes, or words. $15 plus $3 S/H.
http://www.ImpresaPublishing.com
____________________________________________________
My Special Home-School Friend
Before I met my special home-school friend, I was introduced
to home education by someone else. At the time I was not the
least bit interested in home schooling, although my husband was.
Even after I talked with a home schooler several times on the
phone and then visited her at her home, it just didn't feel
right. Although her beliefs seemed solid, I did not like her
attitudes. Since I was unsure whom to go to for advice, I
dropped the whole home-school issue.
Later I contacted a friend of a friend who home schooled
her three children. I called her and she invited me to her home.
What a difference! It was like a tonic to my soul. My
husband, who was already convinced we should home school, was so
pleased with my excitement.
I read books and listened to Gregg Harris's Home School
Workshop tapes. My husband went to a support group meeting, and
I went on a field trip.
After much prayer and with the support and encouragement of
my husband and my new-found friends, two years ago I started to
home educate our two daughters, age 5 and 7.
Oh yes, not everything goes as planned, but the benefits
outweigh anything that happens in the negative. One of my
greatest joys in life was teaching our daughter to read. I am
truly grateful for my special home-school friend.
Sometimes in life we need a second opinion; I am glad I
searched for one. I write this to encourage anyone who perhaps
has been turned off to home schooling by someone else. Please
remember these two very important lessons that I learned.
1. Trust the Lord
Matthew 6:33-34 says, "But seek first His kingdom and His
righteousness, and all these things will be given to you as
well. Therefore, do not worry about tomorrow, for tomorrow will
worry about itself. Each day has enough trouble of its own."
Do not worry about whether or not you are able to do the job
of home schooling, but rather go to God first for His help.
2. Find a Friend
Find yourself a friend who is currently home schooling,
someone you feel comfortable with and confident in her commitment
to her children's education.
Two years ago I would never have thought I could be excited
about home education, but I really am. I hope that down life's
road I can be a special home-school friend to encourage someone
else!
Name withheld to protect another's privacy

A Set of Teaching Home Back Issues
Makes a Most Appreciated Gift!

Order online before Dec. 10,
and we will wrap your gift and
include a card at no extra cost
if you indicate that this is a gift in
the comment field. Also give the
names for "To:" and "From:"
51 Back Issues of The Teaching Home Magazine
Full of information, inspiration, and support that never
goes out of date, these issues are relevant and applicable to
your needs today. http://theteachinghomen.goemerchant7.com
____________________________________________________
Laying Down Life To Be in Center of God's Will
This is our fourth year of home schooling our two daughters,
age 10 and 12. We have never regretted our decision to take them
out of private school and keep them home with us, although a few
times the attitudes were particularly hard to deal with. They
have grown into wonderful children who are both a joy and a
tremendous help to me.
We also have sons, age 11 months and 3 years. It was while
trying to care for them that I became tired, frustrated, and
generally feeling pretty sorry for myself.
My husband is in the middle of building a large, much-needed
addition to our home, and it has taken most of his time. Because
of this, he has not been able to help with our home schooling as
much as in the previous three years. That, too, has taken its
toll on me.
It is amazing how easy it is to be drawn into the world's
view of what makes a happy, successful woman. I found myself
being angry because I have no time for the things I wanted to do.
I needed to see anew that, in a very real way, the daily
task of teaching our children and bringing them up in the fear
and admonition of the Lord is a laying down of my life. It is
not nearly so burdensome when we realize we are in the center of
God's will for our lives.
As for not having time for myself, I am trying to develop
more structure in our home and include our daughters in the
things I enjoy.
The girls each plan and prepare one meal each week, which is
a nice break for me. It gives them an opportunity to see what is
involved in preparing healthy, well-balanced meals our family
will like. I am trying to use this time to help my husband with
the building or just to spend a little extra time with our two
young sons. Our girls are gaining valuable experience in the
kitchen, and I'm getting a valuable break.
We also made Christmas gifts together again this year, which
was the creative outlet I was missing.
I want to tell your readers of a particular blessing our
family has received and encourage others in this way.
We have a special friend who has given our girls free piano
lessons for the last three years. She has nine children of her
own, all home schooled, and still finds time to share with us in
this way. Because of her kind generosity, our girls are able to
take a Spanish class that we would be unable to afford if we were
paying for music lessons.
If you have a gift and can share it with others, I would
encourage you to make the extra effort to do so. A special
relationship has developed between our girls and this lady; I
know she enjoys them as much as they enjoy her.
Hebrews 13:16 says, "And do not forget to do good and to
share with others, for with such sacrifices God is pleased."
Cindi B., Maryland
____________________________________________________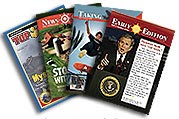 God's World News Is
a Welcome Complement
to Your Curriculum.
These weekly current events and activity newspapers use
today's news and discoveries to help you teach your children
to develop a Christian perspective on world events. Your
children will love the fascinating stories, colorful photos, and
engaging activities. http://www.gwnews.com/theteachinghome/
(Please use the special link above so that your order will be
credited to The Teaching Home's affiliate account. Thank you.)
____________________________________________________
Second Try Brings Success
Our first attempt at home schooling was disastrous. When
our oldest son was 5, we were faced with the "Kindergarten
Question." We decided to teach him at home, but I made many
mistakes. It was very formal and structured and a frustrating
experience for our whole family. We quit, I went to work, and
our family was split in four different directions.
My husband was transferred a year ago, and we enrolled our
boys in a Christian school in 2nd grade and kindergarten.
I stayed home with our daughter. Our oldest son did well,
but he was a real discipline problem. After months of prayer and
intercession for our children, we began home schooling again last
summer.
It was the best summer we ever had, and I learned some
things to make our home school "successful."
1. Prayer makes the difference.
The months of prayer made us willing to obey the Lord
despite opposition from family, friends, neighbors, and our
children.
2. My husband and I are of one mind.
My husband did not really support the idea of home schooling
before, but now he is my "friend in need." That unity is such a
blessing.
3. We got on a regular schedule.
I cannot believe how much more peace there is with the
simple discipline of a set routine. We're not rigid, but our
children really thrive on and love their "schedule."
4. We turned off the TV.
Enough said.
5. We loosened up.
I'm not contradicting myself. I have found that our
children think formal schooling is a "drag." I have had more fun
discovering what motivates our children and allowing them to
learn rather than forcing them.
All in all, we're learning that there is a big difference
between "school at home" and "home school."
We're a special family. We home school.
by D. and J. P., excerpted from the Christian Home Educators
Fellowship of Louisiana newsletter.

Edited Movies for Enjoyment or Education from Family
Time Movies. Try a 15-day free trial. Flexible plans available.
http://www.myreferer.com/mydb/?M=familytimemovies&ID=tth&L=4
Replica Victorian Samplers. Punched paper embroidery. Our
"Merry Christmas" kit is on sale! http://www.VintageNeedleworks.com
Henty Historical Novels, unabridged recordings read by
professional storyteller Jim Hodges. http://www.Hentybooksontape.com
____________________________________________________
By God's Grace
Before you were married, did you know what sort of wife you
would be? I mean, did you picture yourself as always cheerful,
loving, and submissive only to discover such things require
gritted teeth, elbow grease, and unshakable commitment? Perhaps
in time you've discovered that there's another alternative.
God's grace.
I made the same discoveries about home schooling.
Before our daughter was born, I knew that we would be
keeping her home. I knew the theories, reasons, and philosophies
by heart and could quote the experts A-Z.
Now our daughter is 8, and after too much time spent
striving to be that perfect mum, I've finally begun to apprehend
the only thing of value. Trust in the Lord.
Sounds so simple, I know I must have heard it somewhere
before! I can hardly comprehend that I, a Christian, could
attempt such a thing without a moment-by-moment dependence on
His grace; but there you have it!
Isn't God good to us? He actually enables us to do His will.
Excerpted from the Christian Home Schools of Australia
newsletter.
____________________________________________________
Please Thank and Support
Our Sponsoring Advertisers!
These free newsletters are made possible financially by the
fine suppliers who advertise in them and in the accompanying
e-mail. Please consider those that advertised in our last issue
(below) as well as the ones in this issue.
Ludington's Ride: Historical Novel and Family Board Game
http://www.LudingtonsRide.com
Timberdoodle: Knex Construction Sets
http://www.Timberdoodle.com
Pattern Central: New and Older Favorites
http://patterncentral.com
New Vision Systems: Christian Home-Based Business
http://mvbyard.NewVisionSystems.net
Creation Illustrated: Bible-Based Nature Journal
http://www.CreationIllustrated.com
American History and Political Science Reference CD
http://www.1shoppingcart.com/app/adtrack.asp?AdID=105738
____________________________________________________
Sunnyside Up: Making the Grade
Our preschool daughter was always present as I home schooled
her older brother, who was two grades ahead of her.
A couple of years later when a friend asked her what grade
she was in, she replied, "I've been at it all these years, and
I'm still in kindergarten!
Submitted by Becky C., Ohio
____________________________________________________
God Loves You.
Because we have been separated from God by sin, Jesus
Christ died in our place, then rose to life again. If we trust Jesus
Christ as our Savior and Lord, He will give us eternal life.
"For by grace you have been saved through faith; and that
not of yourselves, it is the gift of God; not as a result of
works, that no one should boast" (Ephesians 2:8, 9).
http://www.TeachingHome.com/about/Salvation.cfm
____________________________________________________
To Unsubscribe. Please reply to this message and type
"Unsubscribe" in the subject line.
Change of E-Mail Address. Please send your name,
old e-mail address, and new e-mail address.
Sign up for a Free Newsletter Subscription at
http://www.TeachingHome.com/SignUp.
For Information on Advertising in this newsletter, see
http://www.TeachingHome.com/resources/howto.cfm.
Newsletter Archives.
http://www.TeachingHome.com/newsletters
E-Mail Newsletter Reprint Policy. This newsletter is
copyright 2004 by The Teaching Home. Permission is given to
forward or to print and distribute this e-mail in its entirety.
Individual articles from this E-Mail Newsletter may also be reprinted
unedited in their entirety. Please include "by Cindy Short and Sue
Welch" and print the following at the end of the article(s): "Copyright
2004 by The Teaching Home, www.TeachingHome.com. Reprinted
by permission."
Please Note: We do not give permission to post articles on a website.
Reprints from The Teaching Home Magazine. Fill out
a Request Form and note the reprint policies.
http://www.TeachingHome.com/groups/reprint_form.cfm