"Unbeatable Prices on Select Christian Books for the Whole Family"
is the subject line of the e-mail accompanying and sponsoring this newsletter.
Subscribe to this free e-mail newsletter at http://www.TeachingHome.com/SignUp.

Table of Contents
Getting Your School Year Off to a Great Start!
1. Educational Efficiency
How to achieve the highest level of educational
progress for the most students in the least time.
2. Lesson Planning and Preparation
How to plan and prepare for your school year.
3. Family Priorities and Schedules
How to create a time budget that will reflect
your priorities.
4. Additional Tips
How to keep things moving smoothly
and what to do if they don't!
Recommended Resources
Homeschooler's Journals by Ferg N' Us Services
Money Camp Teacher Training Camp
God's World News Weekly Newspapers
The Teaching Home Back Issues
Sunnyside Up: Humorous Anecdote

Greetings,

As we get started on a new school year this fall, there are
steps we can take and patterns we can establish that will
contribute to a more successful and less stressful home-school
experience for the whole family.
In this issue we are looking primarily at our use of time,
one of our most precious gifts.

May the Lord bless your family for His glory!

Cordially,
Pat, Sue, Heather, Holly, and Brian Welch
The Teaching Home is a 24-year-old, home-school family business.

Continue Receiving This Free E-Mail Newsletter
Whitelist us by putting the following information in your program:
* Our "From" address: Publisher@TeachingHome.com.
* Our sending IP address: 199.108.225.11.
* Our domain name: teachinghome.com.
____________________________________________________
1. Homeschooler's Journal
2. The Homeschooler's
High School Journal
by Ferg N' Us Services
These award-winning systems of record keeping contain:
* Daily Subject Logs for 200 Days
* Field Trip Logs
* Check-Off List for Yearly Requirements
* Multiple Calendars
* Objective/Resource Pages
* Individual Library Lists
* Many more features.
These durable journals feature plastic "Jelly-Proof" covers and
Wire-O Bound which allows them to lay flat -- a wise investment
for your children's records! http://www.fergnusservices.com
Other selections: "Considering God's Creation"
http://www.fergnusservices.com/product.php?p=010354&prods=Go
____________________________________________________
Getting Your School Year Off to a Great Start!
by Cindy Short and Sue Welch, editors
1. Efficiency
How to achieve the highest level of educational
progress for the most students in the least time.
If you have four students, and you teach each one five to
seven subjects separately, you could be teaching 20-28 classes
every day! There are more efficient alternatives.
You will need to decide how much time you and your children
will spend on schoolwork each day or week. (Young students
should start with a very few, brief learning sessions per day and
gradually build up to three or four hours of study by their
teens. Additional "homework" can be assigned during high
school.)
Use the following suggestions to fit your classes into the
time you have allowed for your studies.
You will find that it is not practical to do all the usual
subject every day or even every semester. It is often better to
do a few things well, than many things poorly.
You might select variations or different combinations of
these ideas each year to make the most efficient use of your time
and effort.
Combine Students
The most efficient way to teach several students is to
combine two, more, or all of your students in the same class for
one or more subjects.
You can choose textbooks or other resources on different
levels as long as they cover the same topics so that you can
coordinate everyone's study. Present the lessons in an amplified
manner with explanations that enable all your children to
understand.
History, science, Bible, and literature are obvious choices
of subjects which can be studied as a family, each person on his
own level. Many activities, discussions, videos, and reading
aloud can be shared when everyone is learning about the same
topic at the same time.
Children can be given different assignments or variations of
the assignment, depending on their age and skill level. Older
students can do extra reading, research, and writing.
You might find some new benefits of home schooling your
family if you combine students for one or more classes. There is
a group chemistry that comes from the interaction with other
learners that can enrich the bonds of common experience and
provide motivation and enjoyment in learning.
Combine Grade Levels
Even though beginning reading and math need individual
attention, most subjects can be taught to two or more students
together on the highest level the youngest can do. This works
because of the review and repetition from grade to grade found in
most curriculum plans, including textbooks.
For example, a 12-year-old and a 14-year-old could learn
algebra together, a 5th grade language book could work for grades
4-7, etc.
Combine Both Subjects and Students
Teach two, more, or all of your students an integrated unit
study together. In this method, most subjects are related to a
series of themes or topics and taught together. Math or phonics
can be taught separately.
See the free sample week of Konos curriculum to acquaint
yourself with how a unit study works. http://www.konos.com
Alternate Students
You will need to set aside some time to work with each
student individually in order to meet his specific needs. A
beginner needs phonics and reading lessons, a middle-grade
student needs math concepts explained, and an older student
needs writing conferences.
You can't be in two places at once, so give each child his
own turn for your undivided attention while the others work,
study, or play alone or with each other.
* Give older children their own lesson plan books so they can
carry on with assignments while you work with younger
students. This helps them build self-discipline and time
management. See "The Homeschooler's High School
Journal" at http://www.fergnusservices.com.
* Make a list of acceptable activities younger children can
do when they are waiting for your help, such as puzzles,
coloring, etc.
Alternate Subjects
Instead of teaching all of your subjects every day, simplify
your preparation and gain from your students' focus by teaching
fewer, but longer, classes each day. You can retain the same
number of hours of study each day and cover the same amount of
material during the year. Examples:
* Teach language arts on two days and math on three days.
* Study history for half the year and science for the other half.
Take a break to stretch, get a drink of water, and rest eyes
at least once an hour whether or not you choose longer classes.
Read Aloud Together
A pleasant way to learn together as a family is to read
aloud a wide variety of materials, including fiction, historical
fiction, nonfiction, biography, and poetry.
Stop to explain, question, look up, or discuss items as you
read. See our series on the levels of reading comprehension,
including facts, inferences, analysis, synthesis, and application
in newsletters # 23, 25, 26, 28, and 29 at
http://www.teachinghome.com/newsletters/.
Include Dad Too!
Dad might like to join in a class if your family takes time
in the evening to read and discuss a subject with him, rather
than watch TV or do individual activities. This could be very
motivating for your children and an excellent way for Dad to
participate and teach in your home school.
Take Advantage of Teachable Moments
Supplement and apply your formal studies:
* Use opportunities to learn or apply math, such as at the
store or in the kitchen.
* Talk about things you see in nature or society as you drive
or walk and then look up more information on them when you
get home.
* Learn new words, with correct pronunciation and spelling
from your family reading.
These small moments and many others like them pay big
educational dividends because the context and motivation are
real, not contrived.
As you explore some of the above teaching options, you can
design a plan that will help you work smarter, not harder. Your
whole family can participate together in the joy of learning.
____________________________________________________
Money Camp Teacher Training Camp
Oct. 14-16, Santa Barbara, Calif.
The Money Camp is a unique Financial Literacy Curriculum and
Financial Playbook that can be used in any school or community
setting for kids ages 10 and up. Attend our 3-day Teacher
Training; become the Certified Money Camp Coach in your area!
$295 (ask us about our teacher's discount).
Curriculum and Playbook are also available for purchase.
Call 805-957-1024 or visit http://www.themoneycamp.com.
____________________________________________________
2. Planning and Preparedness
How to plan and prepare for your school year.
The kind, amount, and timing of your school planning and
preparation depends on your chosen arrangement of subjects and
students (see above), your state or other requirements, and your
own teaching style.
A. Create Your Master School Calendar
Create a master calendar for the year that shows schooling
days, vacations, start dates of major units, test dates,
holidays, field trips, and events.
You can choose the traditional nine-month school year with
5-day weeks and three months summer break, or you can set up your
own year-round schedule that includes some of the following
features:
* A four-day school week with three days off.
* Three, four, or six weeks of school, then one week off.
* Eight or ten weeks of school, then two weeks off.
Take into account the number of school days or hours, if
any, that you are required to document according to your
state law.
B. Plan Your Study
Use one or more of the following suggestions to plan your
study. Then record your plans in a lesson plan book or notebook
that can double as a record keeping system. See "The Home
Schooler's Journal" at http://www.fergnusservices.com.
For Texts or Other Books
Simply decide approximately how many pages of a textbook
must be covered each day or week in order to finish it in the
time you have allowed for it.
For All Studies
List target dates for starting and ending each educational
project you plan to complete this year, whether subjects, skill
levels, textbooks, chapters, or units.
For Each Element of Study
Write out details of activities, assignments, or projects
you want to include, along with the estimated time they will take
and the dates for starting them. Link these to the subjects,
units, or textbook pages they go with.
For Each Class
Compile a syllabus (broad course outline with topics,
materials, resources, major projects, etc.) for each class at the
beginning of the year. Add details, rearrange order, and/or set
assignment dates monthly or weekly as you go along.
C. Assemble Your Materials
Order, purchase, borrow, collect, or make the materials you
will need for each subject, unit, or project well in advance.
You will want to become familiar with them in order to use them
efficiently.
* Collect all the library books and other materials you will
need for your lessons at least one week in advance.
* Set aside special labeled shelves and bins for schoolbooks
and supplies.
D. Be Prepared
Weekly
Once a week, take an hour to plan the next week's lessons in
more detail. Consult the overall plans you made earlier, adjust
as necessary, and write out assignments with page numbers and any
individual instructions for each student.
Daily
Spend a few minutes the night before or in the morning
looking over the plans for the day and gathering materials for
the day's lessons.
____________________________________________________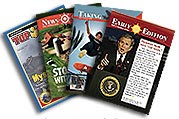 God's World News Is
a Welcome Complement
to Your Curriculum.
These weekly current events and activity newspapers use
today's news and discoveries to help you teach your children
to develop a Christian perspective on world events. Your
children will love the fascinating stories, colorful photos, and
engaging activities. http://www.gwnews.com/theteachinghome/
(Please use the special link above so that your order will be
credited to The Teaching Home's affiliate account. Thank you.)
____________________________________________________
3. Priorities and Schedules
How to create a time budget
that will reflect your priorities.
If you have been thinking about all the things that are
important to your family, you are ready to place them in order
of priority and allot the amount of time each will take.
See articles about family mission statements and goals in
our newsletter issues #80-82 in the archive at
http://www.teachinghome.com/newsletters/.
Follow the steps below to create your regular weekly and
daily schedules.
Step 1: List Everything
List all activities your family needs or wants to do, along with
how often they are done and how much time they take each week.
* List separately each school class or regular educational
activity (e.g., reading literature aloud) along with allotted time.
* Also include sleep, personal and family devotions, grooming,
chores, meals, studies, exercise, calls, errands, meetings,
current projects, reading, mail, paying bills, school and other
planning sessions, and personal, family, and social activities.
* You might save Sundays for church, rest, family, and friends.
* Always allow some extra time for slow-downs and transitions.
* Leave time for unexpected events and opportunities.
* Allow a time slot each week to plan both school lessons and
other family activities for the next week.
Step 2: Budget Your Time
Add up the total time per week for all the activities on
your list.
If your total is more than (or even close to) the hours in a
week, start re-evaluating, prioritizing, trimming, or cutting out
some activities until you have a comfortable fit and good
balance.
Step 3: Create Regular Daily and Weekly Schedules
Now you can plan your family's daily and weekly schedules to
incorporate your plans and goals. Your time budget assures that
urgent demands don't steal time from the important things you
want and need to do.
* Post a copy of your schedule where all can see it.
____________________________________________________
51 Back Issues of The
Teaching Home Magazine
Offered for Sale Online.

Full of information, inspiration, and support that never goes
out of date. These issues are relevant and applicable to your
needs today. http://theteachinghomen.goemerchant7.com
In each issue an average of 58 home schoolers contribute
practical how-to articles, encouraging letters, and ready-to-use
teaching tips.
"The Teaching Home has been a part of my
continuing education since I started home schooling,
and I have kept every issue.
"I often go back to old issues to find creative,
helpful hints or inspiration." Meredith C., Florida
Finding What You Need
You can search by topic in our online store to find which
of our 51 back issues contain articles on a subject you are
looking for.
If you already have a library of back issues, you might
want to use the topical index of our last 39 issues
(1994-present) available online so you can quickly put your
finger on the articles you need.
http://www.teachinghome.com/custserve/bindex.cfm
____________________________________________________
4. Additional Tips
How to keep things moving smoothly,
and what to do if they don't!
Keep an Ongoing To-Do List
* Compile a master to-do list -- a single continuous list that
replaces small slips of paper. Add items to your list as
they come to mind.
* Transfer these activities to your calendar, schedule,
and weekly or daily to-do lists.
* Take a few minutes each evening to write down what must be
done the next day on a dated page in your notebook planner
and/or on your refrigerator to-do list.
Chores and Meals
* Make a chore chart and be sure everyone knows what to do,
when to do it, and how to do it.
http://organizedhome.com/content-5.html
http://www.teachinghome.com/newsletters/vol_2-no_45.cfm
http://www.flylady.com/pages/FLYingLessons_Routines.asp
* Plan seven menus and shop once each week. You can then
arrange the order of your menus within the week, one day at a time.
http://organizedhome.com/content-50.html
* Start dinner early, use a crockpot, or try once-a-month cooking.
http://organizedhome.com/content-85.html
http://www.crockerykitchen.com
Plan Each Week in Advance
In addition to your weekly lesson planning session for
schoolwork, plan the upcoming week's non-school activities
as well.
* Make lists of phone calls to be made, errands to be run,
details to be tended to, and set a goal or two.
* Evaluate anything that is bothering you and think how you
can fix it.
* Coordinate your week with your husband.
Interruptions and Emergencies
* Remember that your family is more important than your
schedule.
* Do not answer the phone during school time.
* Find a workable solution for repeated avoidable interruptions.
* Accept uncontrollable or unavoidable interruptions and
use them for learning opportunities.
* Devise a "Plan B" for accomplishing the most important
things on days when your time is limited by unexpected
developments, emergencies, late starts, etc.
Rely on the Lord's Promised Wisdom and Strength!
"If any of you lack wisdom, let him ask of God,
that giveth to all men liberally, and upbraideth not;
and it shall be given him.
But let him ask in faith, nothing wavering." (James 1:5-6a)
"Let us therefore come boldly unto the throne of grace,
that we may obtain mercy,
and find grace to help in time of need."
(Hebrews 4:16)
____________________________________________________
Please Thank and Support
Our Sponsoring Advertisers!
These free newsletters are made possible financially by
the fine suppliers who advertise in them and the accompanying
e-mail. Please consider those that advertised in our last issue
(below) as well as the ones in this issue.
The Bible in Living Sound
http://www.BibleInLivingSound.org
Marvelous Math Windows Software
http://www.heart-of.com
Grand Connect for Grandparents and Grandchildren
http://www.grandconnect.com
The Home Educator's Booksale
http://www.homeschoolbooksale.com
Power-Glide Flash Cards
http://www.aop.com
Christian Liberty Academy School System
http://www.homeschools.org
____________________________________________________
Sunnyside Up: Ignorance Is Bliss
We had talked about school starting for several days.
Finally, the first day of school arrived. Hannah, our 4-year-old,
was excited about writing her letters and numbers.
When we were through for the day, Hannah said, "Well, we're
finished with school. What are we going to do tomorrow?"
Submitted by Janet B., Georgia
____________________________________________________
God Loves You.
Because we were separated from God by sin, Jesus Christ
died in our place, then rose to life again. If we trust Jesus Christ
as our Savior and Lord, He will give us eternal life.
"For by grace you have been saved through faith; and that
not of yourselves, it is the gift of God; not as a result of
works, that no one should boast" (Ephesians 2:8, 9).
http://www.TeachingHome.com/about/Salvation.cfm
____________________________________________________
To Unsubscribe. Please reply to this message and type
"Unsubscribe" in the subject line.
Change of E-Mail Address. Please send your name,
old e-mail address, and new e-mail address.
Sign up for a Free Newsletter Subscription at
http://www.TeachingHome.com/SignUp.
For Information on Advertising in this newsletter, see
http://www.TeachingHome.com/resources/howto.cfm.
Newsletter Archives.
http://www.TeachingHome.com/newsletters
E-Mail Newsletter Reprint Policy. This newsletter is
copyright 2004 by The Teaching Home. Permission is given to
forward or to print and distribute this e-mail in its entirety.
Individual articles from this E-Mail Newsletter may also be reprinted
unedited in their entirety. Please include "by Cindy Short and Sue
Welch" and print the following at the end of the article(s): "Copyright
2004 by The Teaching Home, www.TeachingHome.com. Reprinted
by permission."
Please Note: We do not give permission to post articles on a website.
Reprints from The Teaching Home Magazine. Fill out
a Request Form and note the reprint policies.
http://www.TeachingHome.com/groups/reprint_form.cfm